Habib: By swinging for fences with Jaylen Waddle and Jaelan Phillips, Dolphins just might hit home run
DAVIE — So it's J-a-y-l-e-n Waddle but J-a-e-l-a-n Phillips.
Got it?
Who knew that after taking Waddle, the Alabama receiver, sixth overall, Dolphins general manager Chris Grier would turn his attention to the best-available Jaelan and add the University of Miami edge rusher at No. 18? Of course, it would have been merciful if Waddle and Phillips' parents had reached agreement on the spelling, but to quote a certain NFL head coach, you can't always get what you want.
On second thought, maybe the Dolphins did Thursday night when they rolled up their sleeves and took a double shot of J&J.
They needed a dynamic playmaker on offense. They got it.
They needed a dynamic pass rusher on defense. They got that.
Come the fall, their quarterback should be happy. Opposing quarterbacks, not so much.
Isn't that the way it's supposed to be?
Hurricane warning:Dolphins select quarterback hunter Jaelan Phillips with 18th pick
Photos:Miami Dolphins draftee and ex-Miami Hurricane Jaelan Phillips over the years
More:For subscribers: Jaylen Waddle an exciting, intriguing, dynamic Dolphins selection
The common thread to these picks is obvious. Before taking even one rep in an NFL practice, Waddle already is one of the fastest players in the league. Dolphins fans will quickly learn that if he gets a half-step behind a defense, it's over. The phrase "no one's going to catch him" will become a cliche.
Phillips won't be doing his business in the open field, but his explosion off the line builds conviction that he will be all that Dion Jordan and Charles Harris were not.
Different styles, same effectiveness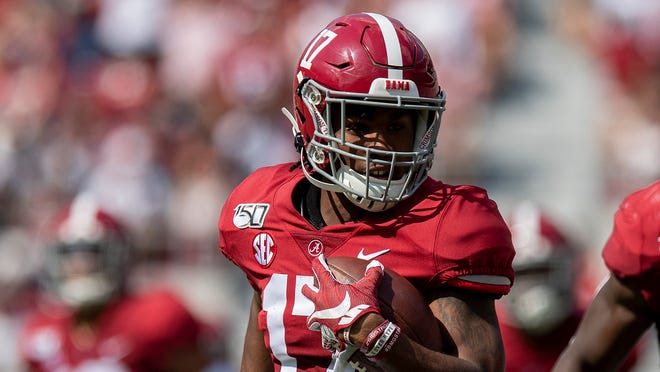 The Dolphins' newest first-rounders arrive with personalities as different as their use of vowels. Waddle is flashy on the field, anything but off it, the antithesis of the diva wide receiver. Phillips is more of the bubbly type, at one point laughing at himself for the multiple variations on the one theme that infiltrated almost every answer he had for the media: Back in the 305? This is crazy!
Some will ask if this is crazy. The other kind of crazy. Waddle is coming off a broken ankle that caused him to miss half of last season. Phillips has had two concussions serious enough to make him retire from football before moving to Florida to un-retire.
A safer route for Grier would have been to take Heisman-winning receiver DeVonta Smith over Waddle and Michigan pass rusher Kwity Paye instead of Phillips. Grier and the Dolphins chose to focus on what Waddle and Phillips could be rather than let themselves be controlled by the fear of what they won't be.
Did the Dolphins outsmart themselves with the Waddle selection? That's another question that will be asked because of the three trades the Dolphins made within this first round before settling for good at No. 6. It cost the Dolphins a 2022 first-round pick to slide back up from No. 12 to No. 6. It also cost them their choice of either Ja'Marr Chase or Kyle Pitts to pull up stakes on their original slot at No. 3. Maybe Waddle would have been there at No. 12, maybe not.
We'll never know, but two things we do know: 1) According to NFL.com's ratings, Waddle was the seventh-best prospect in this draft and 2) If he proves to be another Tyreek Hill with his game-breaking ability, nobody's going to care about the original question.
Besides, the big picture here is that with all his wheeling and dealing, Grier has managed to acquire eight top-50 picks from the 2020 and 2021 drafts. He was playing with house money.
"I've told you we're very comfortable where we were," Grier said. "We had a number of players — like we said — about four players we felt really good about taking at six and we'd be tremendously happy to have."
Grier described Waddle as "a player we've been looking at for a couple of years." In other words, when it comes to the big picture: "Don't look back," Grier said.
Is Phillips' passion a concern?
Phillips said his concussions are "nothing to be worried about." Of course they are, because we all know (or should know) there's no such thing as a concussion that isn't a concern. While Phillips has only so much control over his future in that regard, he has total control over the second issue NFL teams posed during the draft process. When was the last time a former retiree went in the first round, anyway?
"When you watch him play, you would never question his passion and effort and stuff because he plays 100 miles per hour and he's got a tremendous motor and effort, and you can tell football is very important to him," Grier said. "I think like any person, when you're that young going into college and doing stuff and maybe hit a little bit of adversity there, I think it's just maturing and growing."
The young Dolphins doubled their win total last year, to 10, but their actions Thursday night was a recognition that for this team to mature and grow, it needed playmakers. In the final hours before the draft, speculation heated up that the Dolphins were casting eyes at the top offensive tackle in the pool, Oregon's Penei Sewell. A decade from now Sewell might be Anthony Munoz 2.0, but today he would have been a massive letdown.
Some J&J is what the doctor ordered.